Rutland Ospreys Webcam Appeal - we have now raised funds needed to purchase new webcam equipment
You can support the work we are doing to protect ospreys in Rutland here
A huge thank you to everyone who donated to the Rutland Osprey Webcam Appeal, you raised £16,040.24!
Thanks to your support we have been able to purchase and install brand new webcam equipment over the osprey nest at Manton Bay. 
For many years, our webcams have provided thousands of people a unique insight into the lives of a very special pair of breeding ospreys. The cameras on the Manton Bay nest have captured some spectacular footage, allowing everyone watching to witness and record exciting events in the calendar of breeding ospreys - from the moment the adults return all the way through to the fledging of the chicks.
Your generous donations have enabled us to make vital improvements to the camera system and associated equipment, which will allow people all over the world to be able to continue to experience these amazing birds of prey up close.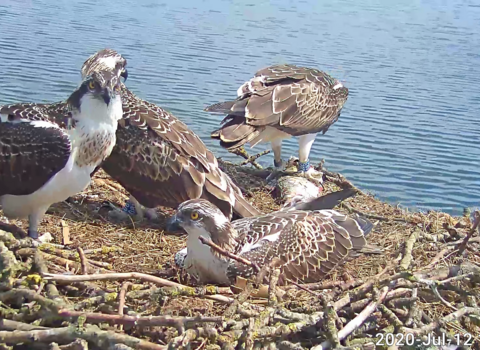 Osprey Nest Cam Live Stream
Don't miss any of the action, watch the osprey webcam live now!
Watch here
Why are the cameras important?
As well as being able to watch these fascinating birds up close, the cameras have several other key benefits:
Observing the birds closely allows us to gather important information and data on the behaviour of a breeding pair of ospreys, which assists with osprey conservation and protection
Live streams and recorded footage are used by our Osprey Education team as a key tool in educating the next generation of conservationists
Monitoring of the webcams provides volunteering opportunities for the local community
The webcams engage and inspire new audiences and people of all ages to learn more about wildlife
They bring people from across the world closer together and closer to nature