Bringing Nature Back
We need to restore nature in our counties and it needs to happen now. Strategy 2030 provides the high-level framework of how we intend to go about it.
Download your copy of Strategy 2030: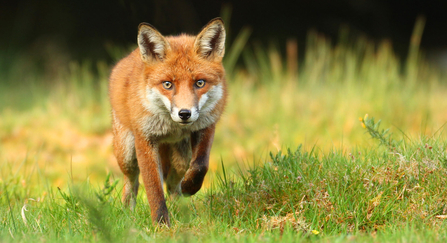 Our Vision
Our vision is of a thriving natural world, with our wildlife and habitats playing a valued role in addressing the climate and ecological emergencies, and people inspired and empowered to take action for nature.
Purpose

Our purpose is to bring wildlife back, to empower people to take action for nature and to create a society where nature matters.
Approach

We are ambitious in our desire to reverse the declines in nature.  We need to increase abundance and diversity by restoring and creating habitats at scale.
We speak authentically with a bold and confident voice, we commit to tell the truth about the state of nature and be clear about what needs to be done to put it in recovery.
Firmly rooted in our local communities, we look after wild places, increasing people's understanding of, and connection to, the natural world.
We look to establish common cause and work in partnership with others to develop new, innovative ways to put nature in recovery.
We demonstrate what is possible, and inspire, empower, and enable people from all backgrounds, cultures, identities and abilities to bring about our vision with us, embracing the diversity of our society to change the natural world for the better.
If we get our approach right in Leicestershire and Rutland, and each Wildlife Trust does the same, we will have a collective impact that gets it right nationally and helps address global problems.
Three Strategic Goals
We have set out three strategic goals that we believe need to happen by 2030 in pursuit of our longer-term vision of a thriving natural world. These goals are interdependent and highly connected, and reaching our overall goal of nature's recovery will require all three to be achieved.
Strategic Transformations
Our 2030 strategy is simple but ambitious; we want to help reverse nature's decline and bring back an abundance of wildlife in our region. To help us achieve this, we have outlined five transformations that we believe will help us in pursuit of our longer-term vision of a thriving natural world.
Enabling Priorities
Our strategy is ambitious because the problems we face as a planet are grave. To solve them, organisations will need to change and we are no exception. We have identified five enabling priorities that represent the most important foundations we need in place to allow us to achieve our strategic goals and transformations set out in this strategy. These actions form a continuous process that underpins our ability to achieve our vision of a thriving natural world.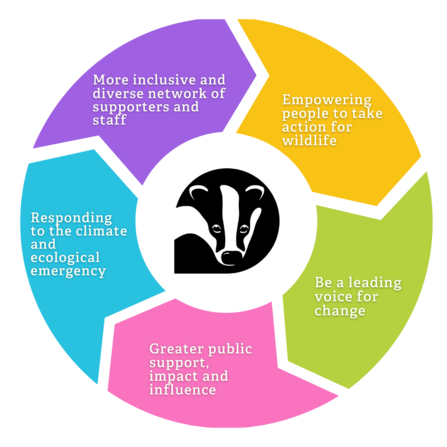 1. Responding to the climate and ecological emergency - Getting our own house in order       

Leicestershire and Rutland Wildlife Trust can only make an authentic contribution to tackling the climate and ecological emergency by ensuring our own house is in order.

As land owners, energy users, consumers of water, event organisers, venue providers, vehicle fleet operators, educators, retailers, and consultancies (to name just some of our services), as well as employers and members of the business community, we recognise that we need to lead by example in how we manage our own environment and community impacts.

We will work to establish a comprehensive programme to reduce our environmental footprint and set ambitious targets in relation to key areas such as carbon emissions reduction, carbon accounting, safeguarding and pesticide use. 
2. Ensuring our nature reserves and landscape-scale initiatives are the foundation for nature's recovery                         

Leicestershire and Rutland Wildlife Trust manages some of the best nature reserves and wildlife habitats across both counties. Our work protecting and improving these areas will always remain integral to our vision and are a vital part of ensuring our most vulnerable wildlife do not disappear forever.

However, our nature reserves have increasingly become the last remaining fragments of wildlife habitat within a degraded landscape. These areas must be managed as the foundational building blocks for nature's recovery and as spaces for people to join us and create relationships with nature within their communities.

We will seek to restore, expand, and connect nature reserves that are small and isolated, working in partnership with landowners, farmers, developers and local authorities to ensure more land is managed for nature. We will seek to improve the way our nature reserves interact and integrate with the wider landscape and with local communities, where they can play a strategic role in linking together wildlife and people.
3. Develop clear and consistent evidence-based policies

Over the next 10 years, we will face new and emerging challenges that will require us to have a wide range of clear policy positions on key issues. By taking a clear and confident position for nature, we embrace our commitment to stand up for nature and engage others to connect with us and join our efforts.

We will work closely with our partners who record and monitor local wildlife, and with wider members of the public who gather invaluable data on the state of nature. These citizen science efforts are critical to ensuring robust and credible data is used to monitor the health of wildlife in Leicestershire and Rutland.
4. Invest in a highly-skilled and diverse staff and volunteer network, and build a movement-wide learning culture   

Leicestershire and Rutland Wildlife Trust employs a wealth of skilled, motivated, and dedicated staff with extensive local knowledge of habitats, species, land and public engagement, supported by a committed volunteer network. Over the next 10 years, the challenges we face will require Leicestershire and Rutland Wildlife Trust to develop staff skills in new fields and areas of nature conservation, such as net gain, nature-based solutions, land management advice, community action and well-being.

We will support our staff to improve the coordination and mobilisation of our volunteer and supporter networks, increasing the ways in which people and communities can contribute to nature's recovery. We also know that we need to become more relevant to more people by increasing the diversity of our Trustees and staff, reflecting the wider society we are part of. We are Wild About Inclusion, where inclusivity and respect are at the heart of what we do in order for everybody to be their authentic self and reach their full potential.

We will be led by diverse, inclusive and effective leaders who embrace the challenge of increasing our diversity and its contribution to our movement and to wildlife. We will increase our engagement with diverse communities, to better understand and overcome barriers to accessing and engaging with nature.
5. Speak with a bold and confident voice, further increasing our impact and influence

Leicestershire and Rutland Wildlife Trust holds a strong status in the local environmental community. Our strength is that we are rooted in local, diverse communities with a strong local focus set within a collective network and influence.

As we work closer with the collective Wildlife Trust movement, aligned under a common strategic framework, there is an opportunity for us to raise our profile, and speak with a stronger, bolder, more confident tone of voice – both locally and collectively. This will enable us to further increase our impact and influence and build a strong, refreshed and recognisable brand that speaks to the core values and aims of our movement and helps to articulate the societal value of nature.

We will continue to work collaboratively with a wide range of existing and emerging local networks and partnerships, and expand our reach to engage new and diverse audiences, making full use of digital platforms to modernise our public engagement and recognition.

We will grow our presence and profile in towns and cities, to engage with the full breadth of the communities where we work, and actively express this in our communications and imagery. We will also act as a facilitator to empower individuals and communities to speak with their own voice and with confidence on their concerns and ambitions for nature and their lives. By making available our platforms to them we will ensure that multiple voices are heard and multiple perspectives presented.
Get involved with Leicestershire and Rutland Wildlife Trust
Now you've read our strategy, we hope you will feel inspired to take action for nature.
Together, we can create a Wilder Leicestershire and Rutland rich in wildlife and valued by everyone.