Rewilding the Soar Valley
The River Soar rises in the extreme south of Leicestershire and flows slowly northwards through a shallow valley. Fed by a number of streams and smaller rivers, it grows in size and joins with the River Trent on the Nottinghamshire border. The valley's landscape has changed greatly over the last few thousand years and will continue to do so. 
We have been doing extensive work in recent years to restore wildlife and wild places to the floodplains of the Soar and Wreake – two of the most significant rivers in Leicestershire. Our goal is to enable the floodplain to function more naturally, which has huge benefits for nature and for people.
We have acquired over 400 acres of land on the Soar floodplain since 2004, offered advice to landowners and carried out extensive habitat restoration work, centred on Cossington Meadows Nature Reserve. This large nature reserve is managed lightly to create a mosaic of rough grassland, wet woodland, scrub and pools of water. The emphasis is on allowing natural processes to shape the site as much as possible.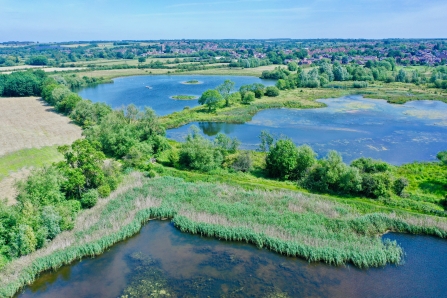 In 2011-12 we surveyed the river Soar through Leicester and its associated green spaces such as Aylestone Meadows. This survey showed that the river corridor is of enormous value for wildlife as it forms a vital link with the river valley to the north and south of the city, facilitating species movement between fragmented habitats. 
The Future Landscape
The floodplain and its wildlife continue to be threatened by the prospect of more development and also human-induced climate change. The latter may result in increased flooding and then be countered by engineering measures that could damage wildlife and wild places in the valley. Instead, the use of the natural floodplain to 'store' water at times of heavy rainfall would both help to reduce the impact of flooding on people's homes and create good habitats for wildlife too.
To achieve this we need to:
Prevent further building on the floodplain, influencing the design of future development
Allow the river and its floodplain to function as one through re-connection of isolated wetland habitats to the river
Provide farmers and other landowners with support to enable them to continue grazing meadows and taking hay in the traditional way, using as few chemicals as possible
Acquire more nature reserve land
Manage publicly owned land in an environmentally sensitive way
Allow some areas to become wilder, with more woodland
Maintain a few places as wildlife refuges
Ensure that the river is as clean as possible
Places to visit in the Soar Valley Living Landscape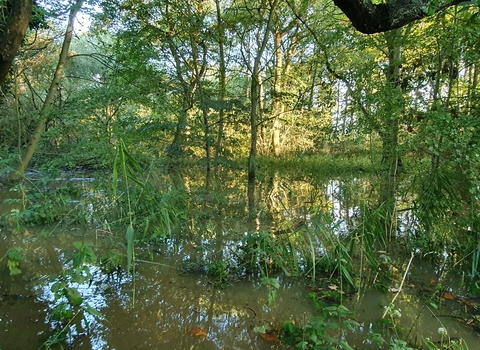 Slowing the flow for people and wildlife in the Soar Valley
We have been working with the Environment Agency at Narborough Bog Nature Reserve to implement a Natural Flood Management project, which will help protect local people from flooding and create valuable new wildlife habitats in the process. 
Read more