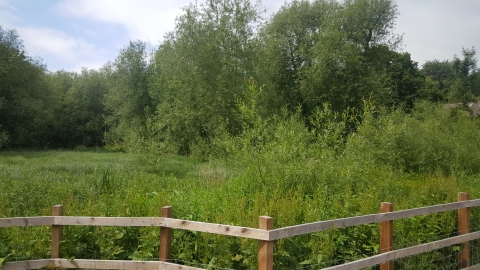 Tom Long's Nature Reserve
Tom Long's Nature Reserve (formally known as Tom Long's Meadow) is a narrow corridor of land approximately 600m in length and no wider than 75m. The area is made up of mosaic of wet grassland and wet woodland habitats, perfect for amphibians, wildflowers, woodland birds, butterflies and dragonflies.
When to visit
Opening times
Always open
Best time to visit
Spring
About the reserve
Tom Long's Nature Reserve (or Tom Long's Meadow, as it was formerly known) is the latest acquisition in the Leicestershire & Rutland Wildlife Trust's portfolio of nature reserves. Nestled close to the heart of the village, this was once more open in nature and comprised of species rich wet grassland used for grazing and hay production. It provides a valuable refuge for local wildlife and the wetter areas were once a notable breeding ground for frogs, newts and toads.
It was once part of a wider area of grazed agricultural land and allotments that has been enclosed by urban development since the middle of the 20th Century; the last of which was of the land south of the meadows in the mid to late 1970's.The Long family sold the land to developers in the 1980's and following failed attempts to obtain planning for housing, efforts were made by Charnwood Borough Council to persuade the developers to allow the area to be managed for wildlife.
A reduction in management of the meadow has seen nature take its course with areas of woodland developing, therefore the term 'meadow' doesn't fit the site as it is today. It is now made up of a mosaic of habitats of wet grassland, swamp and wet woodland; all of which are priority habitats within Leicestershire & Rutland. The retention and enhancement are our main focus. 
Species