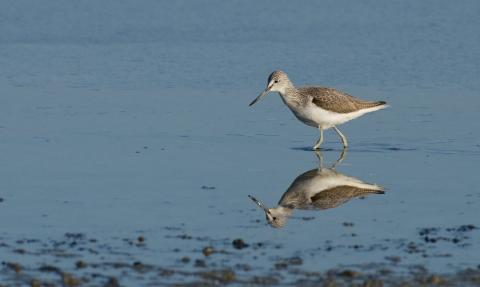 Autumn Wildlife at Rutland Water
Waders, rare birds and fiery trees
As the long nights draw in and the air begins to feel a little cooler, you can enjoy an Indian Summer or a crisp, cool day exploring Rutland Wildlife. Autumn is a changeable season. Everything can change with one wild and windy day. Suddenly the lush woodlands will go golden and fiery and flurries of leaves will swirl off the trees, crunching under foot.
Look out for acorns, conkers and other seeds scattered on the ground. A walk past the hedgerows might reveal a harvest of damsons, sloes and blackberries, with little tits and finches making the most of the feast. 
This is migration in action, so look out for redstarts, whinchats or rare warblers, like barred warblers, which might begin to pop up. Wheatears might be spotted in the larger, grassy areas.
Out on the wetlands, the waders will still be gathering and the first of the winter wildfowl will arrive. The deeper areas of the reservoir might see the first divers, like great northern diver, and grebes, like red-necked grebes. Ducks will begin to filter in in ones and twos, before forming great rafts in the winter. Strong winds might blow in some rare species, too – American wigeon are seen annually at Rutland Water. Common Scoter and Scaup, deep water ducks, can also pop up on the reservoir, so if you've got a telescope it's worth scanning further out. Beware though: ducks can be tricky to identify in the autumn months, as they adopt their 'eclipse' plumage in the summer. They all look drabber and lose many of their distinctive patterns.
As the autumn draws on, the numbers will begin to build out on the lagoons. Swans and geese might begin to turn up, so look for whooper swans moving in small, stately flocks. Numbers of wigeon, pochard, tufted duck, shoveler and teal are increasing, so this is a great chance to test your ID skills and enjoy the spectacle of thousands of ducks. This is also a great time for glossy ibis: black, iridescent waders with downcurved beaks. You might also see jack snipe bobbing along on the shoreline, buried in vegetation. If you're lucky, you might spy a marsh harrier drifting lazily over the reedbeds and lagoons.