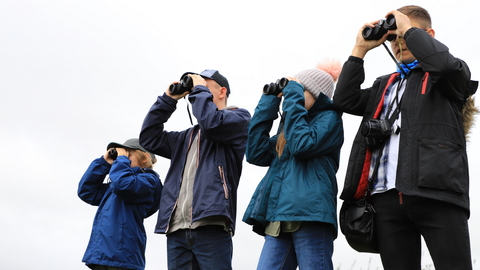 Leicestershire and Rutland Wildlife Trust Youth Conference
Location:
Beaumont Hall,
Beaumont Hall, University of Leicester Botanic Garden, Glebe Road, Oadby, Leicester, LE2 2LD
Leicestershire & Rutland Wildlife Trust are excited to host our first youth conference event for young people aged between 10-16 years old.
About the event
This event will be an opportunity for young environmental activists to come together and feel empowered to take action for nature and explore their local wildlife! The event will host taster workshop sessions where young people can learn about environmental careers, develop species identification skills, and find out how they can take environmental social action!
Workshop 1: Environmental careers
During this session you will hear from several speakers who will provide valuable insight into different roles within the environment sector; this will include environmental conservation, outdoor education and roles related to communications, and marketing/campaigning.
Workshop 2: Skills session: Species identification & planting activity
This practical activity will be an opportunity to explore nature and identify wildlife within the grounds of the Botanic Gardens; during this session, you will learn new skills that will help you to recognize the various species within your local environment.
Workshop 3: Environmental Social Action opportunities
Throughout this workshop, you will learn about some of the ways that you can continue to take environmental action, and you will be signposted to several resources and opportunities. We will be holding discussions to find out what you can do to support environmental action (eg. Protecting wildlife or tackling climate change) and seeking your ideas about how young people can inspire others to care for their environment.
Attendees will also receive a gift pack at the end of the conference; this includes wildlife-themed goodies, and provides guidance about how you can continue to take further environmental action after the event!
Further details about the session will be provided closer to the date. All information will be sent to the email address that is provided on the booking form.
Booking
Price
FREE - Please book your place by Monday 23rd May 2022.

Additional booking information
This event is FREE but booking is required, as there is a limited number of available spaces.

All young attendees (under the age of 18) will require their parent/guardian to complete and return a consent form prior to the event.



Further Details
This event provides young people with an opportunity to network and attend workshops, whilst empowering them to take action in their local environment. We ask that parents/guardians do not attend the event, however, if your child requires support during the event and you would like to accompany them, please do get in touch.
There will be light refreshments available upon arrival and throughout the event, however, we advise that attendees have their lunch before joining the session.
Photographs and videos will be taken throughout the event, and these may be used in printed and online promotional material; this includes, but not limited to, social media and other publicity and publications (only with parental consent).
Please note: If you are unable to attend and need to cancel your booking, please let us know as soon as possible so that we can offer your place to another young person.
If you have any questions, please contact us at: hkeys@lrwt.org.uk  or 07842306248