Wildlife Cruises on Rutland Water
Wildlife Cruises at Rutland Water are the ultimate way to experience ospreys and other wildlife for yourself. Set sail aboard the Rutland Belle at dawn or in the afternoon and enjoy a different perspective on the reservoir. You'll be in with a chance of seeing other birds of prey, like buzzards, red kites and marsh harriers, as well as great-crested grebes, oystercatchers, little egrets, great white egrets, common terns, a plethora of wildfowl and much more!  
Afternoon Cruises
Cruises begin at Whitwell Harbour, where the Rutland Belle sets sail for an hour and a half cruise on Rutland Water. We stand a very good chance of seeing ospreys flying by and fishing, and lots of other gems that Rutland Water has to offer. There will be a live commentary pointing out things of interest, and providing information about the osprey project and the reservoir. Members of the osprey team will be on board to help you get the best out of your trip.
Dawn Cruises
We also run several exclusive dawn cruises. These cruises depart from Whitwell Harbour at 6am for an hour and a half cruise. Early mornings are a magical time to be out on the reservoir, and in the past we have been treated to some spectacular views of ospreys. A breakfast of tea/coffee/juice and sweet pastries is served on the boat. Please state on booking whether you have any dietary requirements e.g. gluten free. 
For the best views, we advise you bring binoculars. 
Prices
Afternoon cruises
£23 for adults 
£14 for under 16s
Dawn cruises
£28 for adults
£19  for under 16s
On the day of the cruise, the osprey team will be delivering an optional talk on the Osprey Project at the Lyndon Visitor Centre, for cruise guests to attend. There will be two opportunities to attend the talk, at 10am and 2pm.
 
See all Osprey Cruises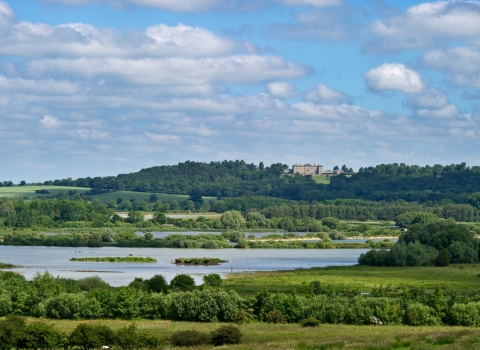 The Rutland Belle
The Rutland Belle has both a covered lower deck and an open upper deck. It is wheelchair and pushchair friendly (bottom deck only). There is a toilet on board, and a bar on the lower saloon providing a selection of drinks and snacks. Please note wellies are not permitted on the upper deck of the Rutland Belle, so please wear alternative footwear if you intend to sit upstairs. Dogs and bicycles are not permitted on board the boat. The boat leaves promptly at the specified time, and cannot wait.
Visit their website
Other information
In addition to your cruise ticket you will also receive a 20% discount on the permit entry price to the nature reserve on the day of the cruise. Nature reserve permits cover the Egleton and Lyndon sites of Rutland Water and the permit includes parking at the reserve. 
All parking costs at Whitwell are covered by your cruise ticket – we will issue tickets at the end of the cruise for use at the exit barrier.
Whitwell Harbour is located at Whitwell Park, North Shore, Rutland, LE15 8BL
Please arrive at least 20 minutes early for your cruise, allowing time for SatNav errors, parking and layering up! It can be chilly out on the water even in warm weather, so please dress appropriately. The Rutland Belle is accessible by wheelchair to the lower decks, but don't worry - you get fantastic views of the reservoir whether you're on the upper or lower decks.
PLEASE NOTE: Cruise tickets are non-refundable, under any circumstances. However, provided we have no less than two weeks' notice, we can move your booking to a different date should you be unable to attend the one booked. We are only able to do this once. We cannot reschedule cruise dates for those who fail to turn up on the day or arrive late.