Take a walk on the wild side and improve the wellbeing of your employees
Did you know that every three in five employees experience mental health issues at some point in their career? Employers have an important role to play in helping improve the wellbeing of their staff and we want to help you. We all lead busy lives and it can sometimes be hard to find time to get outdoors, however, evidence has shown that spending time in nature can make us feel happier and healthier, and has benefits for both our physical and mental health.
Our Wild Wellbeing Walks offer your employees the opportunity to spend the day surrounded by nature, whilst discovering ways to look after their health and wellbeing. The day will also give colleagues a chance to connect with each other outside of the work place, strengthening their relationships. 
We believe that people are part of nature, and that everyone should have the opportunity to experience the joy of wildlife and wild places in their daily lives.
What does a typical Wild Wellbeing Walk involve?

The day will follow the 'five ways to wellbeing' pathway:

Connect with nature and people
Be active through exercise and activities
Take notice of the world and nature
Keep learning by developing skills and self-awareness
Give back to nature and the community

The walk will be facilitated in the beautiful and calming surroundings of Rutland Water Nature Reserve, where your group will learn more about our important conservation work, experience the amazing wildlife on the reserve and enjoy a relaxed guided walk amongst the calm sights, sounds and wonders of nature.

As part of the day, you will also be treated to a locally sourced lunch at our Volunteer Training Centre where you can view a range of birds across one of the reserve's lagoons.

At the end of the day, each participant will be given a Wild Wellbeing Guide full of tips and advice on how to continue their wild journey and support nature's recovery, and will also receive a free copy of our nature reserves guide; 'Your Wild Guide to Leicestershire and Rutland', worth £6.99. 
How much does it cost?

A day's facilitated walk, lunch and activities for up to ten people start from £500.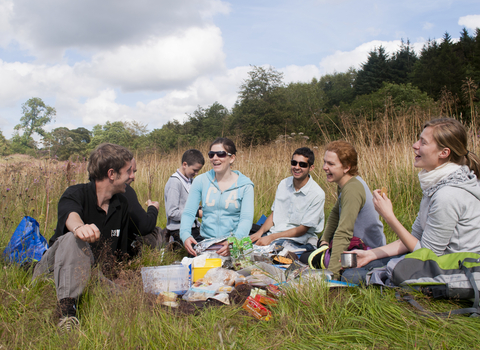 Why should your organisation take part?
Our Wild Wellbeing Walks are about improving your staff's health and wellbeing, and making a difference for wildlife in your area. 
By taking a positive, proactive approach to mental health at work you can help fully engage your staff, making them more receptive and productive.
Developing a reputation for tackling wellbeing and looking after your staff will help you to retain existing and attract new employees.
Being outside increases our activity levels and improves our physical health; it also boosts our social and psychological wellbeing by reducing stress and anxiety, increasing positivity and self-esteem.
By providing your employees with the space and time to access nature, you can help them to feel better, think happier thoughts and help them connect with others.

Supported by The Melton Building Society