Bats need your help
Sadly, our UK bat populations have declined dramatically during the past century. Many of the roosting sites and feeding grounds that bats need have been destroyed to make way for buildings and roads, or other changes in land use. You can help us create more homes for them, by sponsoring a bat box today. This will provide roost sites for bats and enable us to find out more about how bats are using our nature reserves. There are five styles of bat box to choose from, starting from a £25 one-off payment.
About our bats
There are 18 different bat species living in the UK, 12 of which can be found in Leicestershire and Rutland. Our smallest bat is the pipistrelle weighing between 4 - 7g and with a wing span of 18 - 25cm while our largest is the noctule, which can weigh up to 40g and has a wingspan of between 33 - 45cm.  All UK bats eat insects. Each species has its favourites - including midges, moths and beetles - hunting them in their own special way. Most prey are caught and eaten in mid-air, though sometimes bats hang up to eat larger insects or spiders. A common pipistrelle can eat over 3,000 tiny insects in a single night! Bats do not make nests, but choose various places throughout the year to roost, often with other bats. Some prefer hollow trees, others caves, and some use both at different times. Many shelter in buildings, in roof spaces or in bat boxes.
The Leicestershire & Rutland Wildlife Trust manage 35 nature reserves which contain a wide variety of habitats – meadows, woodlands, wetlands and heathlands. These are ideal for bats as they provide the insects they need to feed and trees to roost in. However, not all the nature reserves have lots of mature trees with the crevices that bats needs to roost in so we put up bat boxes in order to provide them suitable roost sites.
How your sponsorship helps:
Putting up and maintaining bat boxes
Contributing towards survey equipment to help us find out more about the bats using our nature reserves
Managing the nature reserves in a way that benefits bats
As a sponsor you will receive a welcome pack, which includes:
A batty pocket mirror, a batty fridge magnet and a bat pencil (colours and images may vary)
A sponsorship certificate
Annual e-mail update about the bat monitoring project
Two "I love bats" stickers
One year free membership of the Leicestershire & Rutland Bat Group (worth £7.50)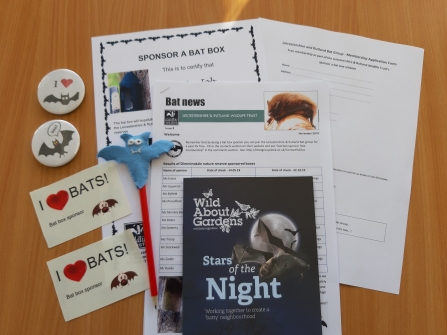 Sponsoring a bat box
There are 2 ways you can sponsor a bat box:
By cheque - download and complete this form - click here - and post the form including your cheque Freepost to: Nathalie Cossa, Freepost RTGZ-LRTC-CJYE, LRWT, The Old Mill, 9 Soar Lane, Leicester, LE3 5DE
By card over the telephone - click here - to view box options and call 0116 262 9968 to purchase over the telephone
If you have any questions about the Sponsor a Bat Box project, please contact Nathalie on 0116 248 7362 or ncossa@lrwt.org.uk