Working with Partners
We could not deliver our vision for Living Landscapes and help wildlife recover across Leicestershire and Rutland without working with partners of all shapes and sizes. We work with landowners, companies, lotteries and grant-making Trusts who recognise that supporting Leicestershire and Rutland Wildlife Trust is not only good for the environment – it is also good for business.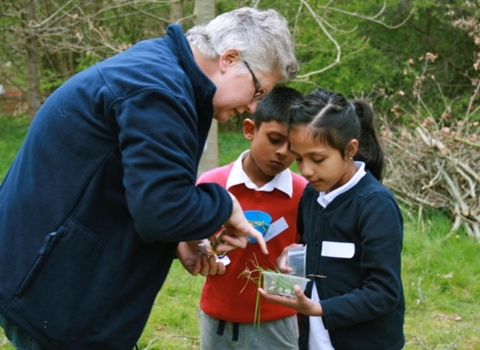 Wild Forest School
We have received valuable funding from players of People's Postcode Lottery, enabling us to run our Wild Forest School project since January 2015. Wild Forest School provides fun, engaging opportunities for children in Leicester - some of whom have never had the chance to explore the outdoors – to experience the natural world and discover nature through a range of wild activities.
Find out more
We believe in collaboration, that by working together we can change the natural world, which is the foundation of our wellbeing and prosperity, for the better. Everyone has a part to play in nature's recovery. That's why we're proud to work with landowners, business and lottery partners. Our objectives are the same for all our partnerships – to establish common cause and to build trusting and enduring partnerships based on mutual respect and shared responsibility. 
Whilst our nature reserves are vital havens for wildlife and sanctuaries where people can get close to nature, most wildlife lives in the wider, farmed landscape. We have a range of ways that we can help farmers and other landowners improve their land for wildlife from providing advice on new habitats such as wild flower rich field margins or new wetlands for wading birds to supporting farmers with applications for funding for grants. We also support individuals who own special places like Local Wildlife Sites. We also have an active project which seeks to help stem the spread of Bovine TB along the Nottinghamshire/Leicestershire Border in the Vale of Belvoir - supporting both badger populations and local dairy and beef farmers - and reducing the prospect of any badger cull in our county. Some of our nature reserves, like Rutland Water, are owned by businesses who we work closely with to maximise their potential for wildlife.
Together we're stronger
We believe that people taking action in the places where they live and work is a powerful force for change so through all of our relationships we look to achieve local impact. 
Thank you for working with us
Companies and grant-making Trusts

Aggregate Industries
Anglian Water plc
Britvic plc
Cambridge Community Foundation
East Midlands Airport
Hanson Cement
Headland Amenity Products
Lafarge Aggregates
Leicestershire & Rutland Community Foundation
Martin Lawrence Memorial Trust
Mather Jamie Melton Building Society
National Forest Company
NRS Healthcare
Peter De Haan Charitable Trust
People's Postcode Lottery
Ponds by Michael Wheat
Rutland Trust
Samworth Foundation
Severn Trent Water
TMC Distribution
Vine House Farm Bird Foods 
Local Authorities and Statutory Bodies

Blaby District Council
Braunstone Town Council
Charnwood Borough Council
DEFRA
The Environment Agency
The Forestry Commission
Hinckley & Bosworth Borough Council
Leicester City Council
Leicestershire County Council
Melton Borough Council
Natural England
North West Leicestershire District Council
Oadby & Wigston Borough Council
Rotary Club of Market Harborough
Rotary Club of Melton Mowbray & Belvoir
Rutland County Council
Other Organisations

The Conservation Volunteers
East Midlands Wildlife Trusts
Friends of Charnwood Forest
Get in touch
For a confidential, friendly and no-obligation chat with us, please get in touch. Harriet Hickin, our Supporter Development Officer, would be happy to answer your questions and tell you more about how we work with businesses to protect wildlife and wild places in Leicestershire and Rutland. We would also be happy to meet you at a place of your choice if you would rather talk to us face to face. Thank you.
Harriet Hickin
hhickin@lrwt.org.uk
0116 262 9968