What is the Green Influencers Scheme?
The mission of the scheme is to help young people create deep, lasting and meaningful connections with the natural environment. Green Mentors across England will support groups of young people (Green Influencers) in creating youth-led environmental projects within schools, youth groups and local communities. Green Influencers will learn and build skills, and will be empowered to develop and deliver exciting and impactful projects within their local area.
The Leicestershire & Rutland Wildlife Trust is a host organisation for the Green Influencers Scheme, and received grant funding to employ a Green Mentor who will facilitate the Green Influencer projects.
The Green Influencers Scheme will be in place until January 2023, however we hope this project will be a catalyst for a lifetime of ongoing and sustained social action.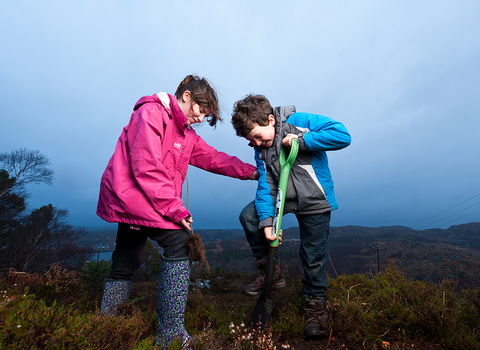 What is a Green Influencer?
A young environmental activist (aged between 10-14 years old) who wants to make a positive difference in their community, and is passionate about inspiring others to love and care about the natural environment! Green Influencers will together initiate and lead environmental projects within their local communities through youth social action. A Green Influencer will motivate others to take action towards tackling various environmental issues.
What is youth social action?
Activities that make a positive difference to others or the environment. These could include volunteering, fundraising, campaigning or supporting peers. 4 in 10 young people aged between 10 and 20 are already taking part in youth social action, but we know that almost twice as many want to. They just need the chance. 
Watch the video to find out more. 
How many groups of Green Influencers will be created by the Leicestershire & Rutland Wildlife Trust?
Over the next two years (until January 2023), our aim is to establish a minimum of twelve groups of Green Influencers within Leicester and the surrounding areas.
Our target is to create six groups of Green Influencers each year, with at least ten young people attending each group.
How can you become a Green Influencer?
If you would be interested in creating a group of Green Influencers in your school, youth group or community group, or know of a group of young people who would like to get involved, then we would love to hear from you! Please get in touch if you, or a group of young people:
Are between 10-14 years old
Live in Leicester (or surrounding areas), or attend a school/youth/community group within Leicester (or surrounding areas)
Are passionate about protecting and improving the environment, and want to inspire others to take action
How can you apply?
We have created a Green Influencers application form to enable us to learn a bit more about you, including your skills and interests. The information will help us to understand why you would like to become involved in the Green Influencers Scheme.
Please contact Hannah Keys (Green Mentor) hkeys@lrwt.org.uk for an application form or if you have any questions.
How is the scheme funded?
The scheme was set up by The Ernest Cook Trust (a national  educational charity) and is match funded with the #iwill Fund. The National Lottery Community Fund and the Department of Culture Media & Sport (DCMS) are each investing £25 million seed funding to create the #iwill Fund and The Ernest Cook Trust is acting as a match funder and awarding grants on behalf of the #iwill Fund.
Equality, Diversity & Inclusive opportunities
At the Leicestershire and Rutland Wildlife Trust, we are passionate about inspiring everyone, of all ages and from all backgrounds, to love and care for wildlife and wild places. We want to encourage a love of wildlife, and inspire young people to take action for it. We work across Leicestershire and Rutland with all communities and cultures, because we believe that nature should be accessible to all.