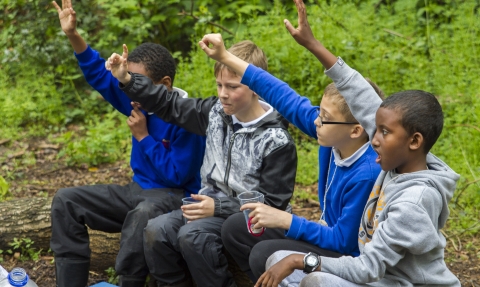 For Teachers & Nursery Practitioners
Discover wildlife through school
We are passionate about inspiring the next generation to love and care for wildlife and wild places. We offer a broad and varied education programme that we can deliver with your class, group or school, linked to the curriculum and designed to maximise learning opportunities for your pupils, whilst encouraging to love wildlife and inspiring them to take action for it. We work across Leicestershire and Rutland with all communities and cultures, because we believe that nature should be accessible to all. 
What we offer
Leicestershire and Rutland Wildlife Trust offers a range of exciting Outreach Education Programmes. 
Through our Environmental Education Workshops we can bring quality environmental education to your primary school, whilst meeting the requirements of the National Curriculum. Our Forest School sessions help children to develop personal, social and emotional skills and increases confidence and self esteem, and our comprehensive programme can be run either in your school grounds or in a nearby green space. Our range of Woodland Workshops help pupils experience elements of Forest School such as woodwork, shelter building and fire lighting; and school grounds projects and advice are available through Grow Wild, which aims to support schools to make the most of their outdoor spaces for people and for wildlife. We also offer a Wild About Learning pack, especially designed for teachers. 
You can find out more about each work area below.
Forest School

Forest School is a unique educational programme run by trained Leaders that takes place outdoors in the natural environment. It gives children and adults the chance to explore, learn and discover at their own pace, developing their confidence and self-esteem in a safe, supportive and positive space.

Typically, small groups of pupils (usually a maximum of 15) take part in a programme of six or more weekly sessions lasting 1.5 to 2.5 hours.

All sessions are designed and led by trained Forest School Leaders, however, Forest School strongly encourages child–led learning, so as the weeks progress, pupils are given more freedom and responsibility to explore their interests and initiate and direct their own learning.

Forest School uses natural resources to stimulate imagination, creativity and investigation. Activities can include:

Woodwork using tools, e.g. making musical instruments, jewellery, decorative items
Shelter building
Natural art
Using knots and lashings
Fire lighting
Climbing and balancing

Sessions happen entirely outdoors, whatever the weather. This enables participants to connect with nature, experience the seasons and see how the Forest School site changes over time.

Forest School takes place at the same location each week. We run Forest School sessions in school grounds, local green spaces and at our nature reserves in Leicester city and across Leicestershire and Rutland.

The benefits of Forest School

Forest School is suited to all ages and abilities. The aim of Forest School is to develop the child as a whole, and can:

Heighten self-awareness and improve emotional and social skills
Promote co-operative and group working
Enable participants to evaluate risk learn how to stay safe
Develop physical abilities
Encourage participants to take care of themselves and others
Foster care, appreciation and respect for wildlife and wild places
Broaden knowledge and understanding of the natural world

Prices

£125 for a half day
£175 for a full day
Environmental Education Workshops for EYFS, KS1 and KS2

Our Environmental Education Workshops have been designed to be delivered in primary schools. We bring hands-on resources into your classroom and use your outdoor space and grounds to explore and discover the natural world.

Our workshops are: 

Fun and interactive: using stories, games, art and role-play
Curriculum-linked: designed to meet specific national curriculum targets
Run by experienced Education Officers

Workshop topics

Topics are designed to broaden children's knowledge and understanding of wildlife and nature, and foster care and respect for our environment. Topics include:

Life processes and living things
Variation and classification
Habitat exploration
Plant reproduction
Animal survival strategies
Climate change
Renewable energy

Click here to download a full list of the workshops we offer.

Teacher resources

Each workshop has an accompanying session plan for teachers which includes suggested activities to do with the class before and after the visit, along with web links to further resources and information.

Prices

Full day visit (3 workshops) - £175
Half day (2 workshops) - £125
Woodland Workshops

Our Woodland Workshops give pupils the opportunity to experience elements of Forest School, without having to take part in a full six week programme. Each session lasts 1.5 hours. During the workshops, pupils get take part in practical hands-on activities, many of which they will be doing for the first time. They will also learn new skills and explore nature and natural materials first-hand.

Click here to download a guide to our Woodland Workshops

Prices

Full day visit (3 workshops) - £175
Half day visit (2 workshops) - £125
School Grounds

Our Grow Wild project can support your school or group to make the most of its outdoor spaces for you and for wildlife.

Our team of experienced gardeners can work with you to:

Design a wildlife, sensory or mindfulness garden, a Forest School area, a barefoot or minibeast trail or a wildlife-friendly vegetable plot
Create a garden from scratch - there's something possible for everyone from window boxes to wildflower meadows and ponds
Renovate existing gardens that have fallen by the wayside
Maintain and improve your outdoor spaces
Train your staff, volunteers and students in nature-friendly gardening techniques

We can work with you on all stages of a project, or you can brief us and we'll do the rest.

Using your garden to learn

Our education team can help you use your space to learn - from minibeast hunting and pond dipping to investigating plants and trees, or understanding the impact of climate change on wildlife. We offer a wide range of exciting curriculum-linked workshops that can be run in your school grounds. If you're starting from scratch we can support you to involve the students in every step of the process from learning about wildlife gardening to designing their own plot.

Prices

We keep costs as reasonable as possible, providing something to fit with every budget. This is bespoke service, so charges may vary.

Typical costs are:

Initial site visit - for our benefit to help us assess the job we're being asked to do. This will involve dialogue with staff (or parents or governors), but the emphasis is on information flowing to us: FREE
Advice visit – we will walk around your site with you, providing verbal advice on how to improve your space: £84 plus travel.
Advice visit plus a brief written report: £168 plus travel.
Advice visit plus a full written report: £84 plus travel for the visit.
We'll give you a quote for the report once we've assessed your needs
Design and gardening work: approximately £168 per gardener per day.

Check out our gallery here to see what we can achieve together
Wild About Learning pack

Our curriculum-linked teacher's pack is designed to support and encourage teachers to take their lessons outdoors.

Wild About Learning consists of 2 hour numeracy and literacy lesson plans for each KS1 and KS2 year group, plus links to other packs and resources.

Lesson plans have been designed to:

Work in any school grounds

Use commonly found natural materials

Need minimum preparation time

You can download Wild About Learning here, or request a printed pack by contacting us
Osprey Education

Rutland Water is home to the first Ospreys to breed in Central England for more than 150 years. We would like to offer you and your pupils the opportunity to learn more about these magnificent birds.

The Rutland Osprey Project began in 1996 with the aim of reintroducing this spectacular birds of prey to Rutland and to provide a base from which Ospreys could spread across England.

Education has always been an important aspect of the team's work. The Rutland Ospreys form an excellent starting point for school children to engage with all areas of the school curriculum, and we have managed to link the osprey story to a wide range of lessons as well as fun activities and practical activities.

There are three main ways in which we work with schools:

We can visit schools in the Rutland area to give whole school assemblies or class presentations. This forms an excellent introduction and can be an ideal way into use ospreys as a theme to explore other areas of the school curriculum.

We also offer a choice of practical educational workshops to classes, and have activities suitable for primary and secondary school groups.

Educational Visits to Lyndon Nature Reserve, Rutland Water

Schools can arrange a visit to the Lyndon Nature Reserve to see the Rutland Ospreys, between March and September. The visit includes an introductory talk, and the use of binoculars and telescopes at the Waderscape hide to see the ospreys. Younger pupils use "Osprey Expert" activity books as part of their visit. For secondary school groups or older students we can offer more specific educational content by arrangement.

Schools and educational groups have free access to over 60 osprey related primary and secondary school educational resources. These include lesson plans and schemes work, games, a range of cross curricular activities, pupils worksheets with teachers notes and answers, plus educational games.
Forest School Taster Sessions at Attenborough Arboretum

We've teamed up with the University of Leicester Botanic Garden to bring you tailor-made Forest School taster days, suitable for EYFS, KS1, KS2

During the sessions, pupils will take part in practical hands-on activities. They will learn new skills, explore nature and natural materials first-hand.

You can choose three Woodland Workshops to make a full day of activity at the Attenborough Arboretum. Each day includes a certificate to take home. All are suitable for EYFS / KS1/2.

1) Woodwork Use a range of tools to create items out of wood such as medallions / pendants, beads, mobiles, animals, kazoos and other musical instruments or magic staffs.

2) Shelter Building Work in small groups to create a shelter using ropes, sheets, tarpaulins and branches. Groups can design their own shelter or make one from examples provided.

3) Natural painting Using a pestle and mortar make paint from natural materials like mud, leaves, flowers and berries. Paint a picture and make a frame using sticks. Or use a mallet to squash leaves and flowers onto cloth to create works of art.

4) Mud! Set up a mud cafe and design your own mud cakes, shakes, pies... Try creating mud paintings, balls, faces and more!

5) Music Listen to Marin Waddell's story 'The Happy hedgehog' and make music of your own using the natural features of the Arboretum. Make a kazoo, shaker and rattle and work together to replicate the sound of a rainstorm.

6) Mammal tracks Look for and follow tracks and learn about the mammals that created them. Create some prints of your own and make a clay animal to take home.

7) Fire! In groups learn how to light a small fire safely using a firesteel and cotton wool. Then whittle a stick and toast a marshmallow on the big campfire.

For more details, including year group specific workshops, click here.

Availability: All year

Age groups: EYFS / KS1 / KS2

Numbers: up to 35 (one class)

Duration: Full day

Lunch: An inside space will be provided if needed

Site: Attenborough Arboretum, Carisbrooke Rd, Leicester

Cost: £5.90 per child (minimum charge £141.60) no charge for adults

To book contact the University of Leicester Botanic Garden 0116 271 2933 or botanicgarden@le.ac.uk
Wild Tots sessions with Nursery/Pre-school groups

Our Wild Tots sessions for Nursery or Pre-school groups are suitable for 2 – 5 years old and are designed to get young children outside, exploring, discovering and learning about the natural world. They are led by trained Forest School Leaders.

What happens during the sessions?

Sessions focus on set themes. For example: Colour, Music, Minibeasts, Trees, Birds and Mud.

The sessions generally involve:

Scavenger hunt or trail
Listening to a story
Snack time (optional)
Natural craft
Wildlife themed game or song

How long to they last?

The sessions can last from 45 minutes to 1.5 hours.

What is the charge?

The cost per hour is £45.

Where do they take place?

Sessions are designed to take place in nursery / school grounds or a local green space. They are run outside, whatever the weather.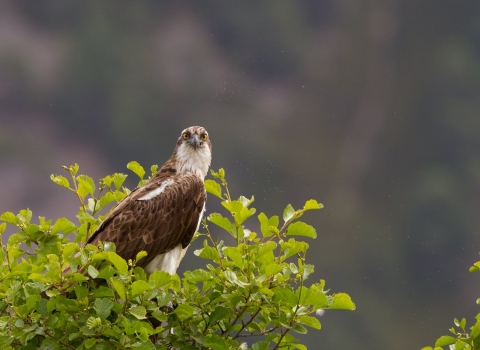 Osprey Education
Our Osprey Education programme runs from March-September, and encourages children (through curriculum-tied lessons and activities) to learn about ospreys and other wildlife. We also offer talks, school visits and more.
Find out more