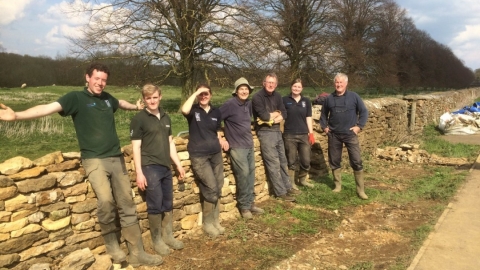 Dry Stone Walling for Beginners - 2-day course
Location:
Rutland Water Nature Reserve,
Oakham,
LE15 8BT
Book
Dry stone walls can stand for decades. This two day course will give you the basic principles of the craft of stone wall building or repair and give you an understanding of the construction of a field wall. John Shone of Rutland Willows will be your instructor, a professional dry stone waller with many years of teaching. He will explain the techniques of the craft while you get hands on experience.
About the event
During the course you will learn how to:
Strip out a wall correctly and grade the stone
Set up a wall profile
Lay foundations
Build the first and second lift
Lay throughstones correctly
Cope a wall off and tidy
Suitability: You should be able to lift heavy stone. Tough boots, gloves (preferably pvc) and clothes suitable to the weather are essential. If the weather is likely to be hot please think of bringing a hat and sunscreen as you will be outside continuously without shade. You will be provided with and shown how to use any tools you might need.
Please bring your own pack lunch, hot drinks will be provided.
NB: In the event of extremely poor weather the event may have to be rescheduled for safety reasons