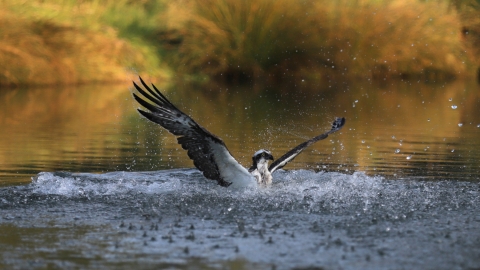 Osprey Cruise - dawn
Location:
Whitwell Harbour,
Whitwell Harbour, Bull Brigg Lane, Whitwell, Rutland,
LE15 8BL
Book
One of the most exciting ways of seeing Ospreys at Rutland Water is to take a guided trip aboard the Rutland Belle.
About the event
Corona Virus Update 
We are pleased to confirm that we are working towards reopening our cruises on a reduced capacity and within government guidelines on social distancing from the 4th July.
However, the tickets can only be offered for zoned groups of up to 2, 3, 4 and 6 persons regardless of age and not as individual tickets. All seats will be located outside either on the top deck or as exclusive use in the bow. Please ensure you bring a face mask with you as it is the law to wear one on public transport at the moment. Hand sanitiser will be provided.
An early morning is always a magical time to set sail on the reservoir. We sail to parts of the reservoir where we stand a very good chance of seeing ospreys flying by and fishing, and lots of other gems that Rutland Water has to offer including Little Egret, Great Crested Grebe, Red Kite, Buzzard, Common Tern
and occasionally Barn Owls and Grey Wagtails.
The cruises depart from Whitwell Harbour at 6am for an hour and a half cruise – a light breakfast of tea/coffee/juices and sweet pastries will be served on-board within social distances. 
In addition to your cruise place you will also receive a 20% discount on the permit entry price to the nature reserve on the day of the cruise. Nature reserve permits cover the Egleton and Lyndon sites of Rutland Water.
All parking costs at Whitwell are covered by your cruise booking – we will issue tickets on the cruise for use at the exit barrier at Whitwell car park.
Booking
Price
Top decking outside
Up to 2 persons £56
Up to 3 persons £84
Up to 4 persons £112

Exclusive use of the bow outside
Up to 6 persons £120

Any children within the group under the age of 16 years, will need to be accompanied by an adult

Additional booking information
Car park included
Know before you go
What to bring
Please bring your own face mask and binoculars