Stop and rethink!
Ecosystems permanently damaged. Irreplaceable habitats destroyed. Taxpayer's money spent on restoration wasted. Wildlife extinctions at a local level. This could be nature's fate if the current plans for HS2 continue. 
In the most comprehensive environmental assessment to date we can reveal the sheer scale of potential damage from HS2. Our report shows that the deep cut HS2 will make across the landscape could stop nature's recovery in its tracks. 
Given this evidence that the costs to nature are escalating, we urged the Prime Minister Boris Johnson to use his power to stop and rethink this project. If this chance is missed, the scar may never heal.  More than 66,800 people added their names to our letter too, which we took to Downing Street on Tuesday 4th February. 
We were dismayed with the Government's decision shortly after to give HS2 the 'green signal'.
More recently, HS2 Ltd was given formal notice to proceed - a decision we had expected to take a back seat during the current national health crisis when so many services have been disrupted and in light of the risk to nature during breeding season. It is critical that HS2 Ltd delivers – and improves on – its mitigation and compensation commitments. If you live close to the route and are concerned about any of the current works, complaints can be lodged directly with HS2 Ltd.
HS2 and the environment
Hundreds of important habitats and special wild places are under threat from the government's proposed High Speed 2 (HS2) rail network. Ancient woodland, lakes, meadows and other important habitats are at risk. Yet, there has not been a Strategic Environmental Assessment and the compensation plans being put forward are not good enough.
The Government and HS2 Ltd acknowledge that the route can't be delivered without extreme harm to the natural environment. Furthermore, the deep cut and divisive scar the route will cause along the length of England's habitats pose a genuine barrier to the urgent action required to recover nature and restore landscapes. The current approach to HS2 means that a Nature Recovery Network would be impossible.
The potential damage is too great - especially while we are facing an ecological and climate emergency. We need HS2 Ltd to stop and rethink.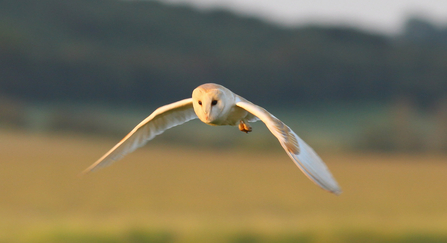 The Impacts of HS2 in Leicestershire
River Mease a Special Area of Conservation and a Site of Special Scientific Interest (SSSI) is likely to be directly affected by the proposed route. This lowland clay river supports nationally significant populations of Spined Loach and Bullhead, two internationally notable species of native freshwater fish with a restricted distribution in England.
Lount Meadows a Site of Special Scientific Interest (SSSI) is likely to be directly affected by the proposed route. This valuable cluster of sites includes some of the best examples of slightly acid neutral grassland in Leicestershire, with species such as the rare Adder's-tongue Fern present.
Another 4 SSSI's and 5 Ancient Woodlands including Cloud Wood Nature Reserve will potentially be indirectly affected. Wildlife in these areas will be affected by dust and noise from the building works, habitats will also be seperated and wildlife will find it difficult to move around and search for food. 
97 Local Wildlife Sites will potentially be impacted directly or indirectly by HS2's development. 
We are continuing to monitor progress as best we can and we are recording known breaches of licence conditions and impacts to species, sites and habitats as a result of the works.