World Osprey Week 23-27th March
World Osprey Week - 23-27th March
World Osprey Week or WOW! celebrates the return of the ospreys as they migrate north back to their summer breeding sites. These spectacular birds of prey are an excellent way of engaging young people with a love of wildlife and inspire them using creative, social, and scientific areas of education. 
This year for the first time we are introducing Osprey Home School! Our Osprey Education team have created fun activities for each day of the week that the whole family can get involved with from home.
World Osprey Week at home activities
Follow along with the daily activities below during World Osprey Week. Learn everything there is to know about Ospreys and become an Osprey expert! 
Monday

Watching Ospreys via the Nest Camera

Scientists learn lots about animals by watching them. You can watch our star pair 'Maya' and '33' on the Rutland Ospreys webcam. It is on all the time and you can watch for as long as you wish, but do remember to take a break now and then. 'Maya' and '33' take a break from the nest by going for a fly around, just like you can run around the garden.

If you enjoy your Osprey watching it is something you can do every day if you wish, much better than the TV! If lots of people watch the Ospreys and record their activities someone may spot something important happening which we miss. This is called citizen science. 

Here are some resources to help you:

Primary Schools: Watching Ospreys (Science)
Teacher Notes

Secondary Schools: Watching Ospreys (Science)
Teacher Notes
Tuesday

Drawing or Painting  
You have now spent some time looking at Ospreys so you know what they look like. Today you can get out paper, pencils, crayons or paints and either draw or paint an Osprey picture. It can be any style that you like, colour or black and white, lifelike or cartoon. Just use your imagination. If you put on the webcam you can draw an Osprey from real life. You could also try to show an Osprey activity you have seen on the nest camera, such as bringing in nest material or a fish.

Keep your picture, and later when you return to school you could take it in with you. If lots of people in your class did this then suggest to your teacher that they could judge the best one and send it to us. If we get lots of pictures sent in we will hold a competition.

We've got some Osprey pictures and outlines to get you started:  
Wednesday

Migration
To get to Africa the Ospreys flew around 3000 miles. They are now back or are in the process of flying back, so that is a return journey of around 6000 miles depending on which country they went to! You can look up the migration route of Osprey 30 (she has a satellite tracker) here. Find out the names of the countries she flies over and draw a map to show her route with all of the countries named.

Here are some resources to help you:

Migration - the amazing migration of Osprey 30 (English & other subjects)
Teacher Notes
Student Notes

Migration Statistics - Osprey 30 (Maths & Science)
Teacher Notes
Student Notes

Osprey Migration (Geography)
Teacher Notes
Student Notes

Space Age Ospreys (Science & Technology)
Teacher Notes
Thursday

Osprey Story
What adventures did the Ospreys have while they were in Africa? Yesterday you learned the countries they fly over whilst migrating, what adventures might they have had, what problems to overcome? Today it is a chance for you to use your imagination.

Write a story about an Osprey in Africa, or on its migration back to Rutland. You can choose a real bird like 33,  30 or 5N. Or you can make one up (but remember to give it a ring number).

To help write your story, visit this page to learn more about the Rutland Ospreys.

Here are some resources to help you:

Stick Puppet Stories (Storytelling)
Teacher Notes

Osprey Story (Multi-subject)
Teacher Notes
Supporting Images

Writing Styles (English)
Teacher Notes

Ospreys in the News (English)
Teacher Notes
Student Notes

Osprey Metaphor (English)
Teacher Notes
Friday

Watching Out of the Window
Wherever you live you can see birds (possibly even a passing Osprey!) You just have to look. This can be done out of the window or outside in your back garden. Get a notebook and pencil find somewhere comfortable and safe, sit and look. Be quiet and if you are outside be still as you can. Look up and all around, gradually you will see the birds. 

Try to see sizes, colours, patterns and shapes, and gradually you will see that there are many different species of bird. If you know their names write a list in your notebook, if you do not know what they are write or sketch some notes which can help you to look them up on the internet later. It is hard at first but gradually you will learn their names. Keep an overall list of what you see.

Keeping a list of birds you see around your home is called 'patchwatching' and lots of birders do it.

Here is a challenge …..

How many species of bird can you see on your patch this year. Last year Jackie from the Osprey Education team saw 104 on her patch, which was just in her garden and places she could walk to from the garden! She is determined to beat last year's total in 2020! Is there someone out there who can beat Jackie's total? Send us your list!
Migration continued

Migration

The bird world is on the move, migration is a big and exciting event. Here is how you can learn more.

At the moment all the ospreys of breeding age are migrating back to their breeding territories. Several adult ospreys have already arrived at Rutland Water. Ospreys are not the only birds that migrate, last week the chiffchaffs arrived back in the UK, they over winter in West Africa just like the ospreys, but they are very different. Small olive green birds, they are hard to see but at present are in lots of trees and bushes all over the UK. They are easy to hear as they sing their name very loudly Chiff - Chaff over and over again.

Sand martins will be arriving back any day now and at the same time many birds, such as fieldfares, which have spent the winter with us in the UK will be leaving to fly north to breed in Scandinavia or the Artic.

Getting started

Search for a map of the world on the internet and print it out. If you are unable to print, try drawing one and colouring in the main countries. If you do it really big, perhaps on the back of some spare wrapping paper or wall paper, you could make a migration poster.

Completing your migration map

Draw an arrow on your map from Gambia in West Africa to the UK. You could look up the route that ospreys fly on their migration and draw your arrow along the same route. Now write Osprey onto your arrow.

You can show the migration routes of lots of other birds on your map by drawing arrows and writing their names on the arrows. Use the internet to find out where some other migrating birds fly.

If you get stuck try looking up Swallow, Bewick's Swan, Whooper Swan and Fieldfare, use our wildlife explorer for a starting point. Ospreys also migrate in the USA; look them up to find out where do the American birds overwinter, and where they breed.

If you want some more activities on migration, have a go at Wednesday's activity. 
Birdsong

At this time of the year many birds are starting to sing and call. They call to each other to maintain contact (just like you calling someone on the phone) and they sing to say 'this is my territory'. There are also alarm calls which they make when they are scared. Visit the RSPB website for more information about bird songs.

You can hear lots of bird songs and calls on the internet. The British Bird Songs website has all of the British Birds songs. If you have a smart phone or tablet, try downloading the Warblr app which recognises British birds by their song.

Begin by using  the internet to hear the song of some easy and common birds such as:

blackbird
robin
wood pigeon
wren

Once you have an idea what these common birds sound like try listening for them near your home; outside in the garden or nearby park, or if you are indoors open a window and listen. If you keep still the birds will get used to you and be more likely to sing or call. Ignore the man made sounds like cars, just sit and listen to what birds you can hear. Keep practising and soon you will begin to hear a large variety of birds and begin to recognise them.

Enjoy your listening it is a very relaxing thing to do!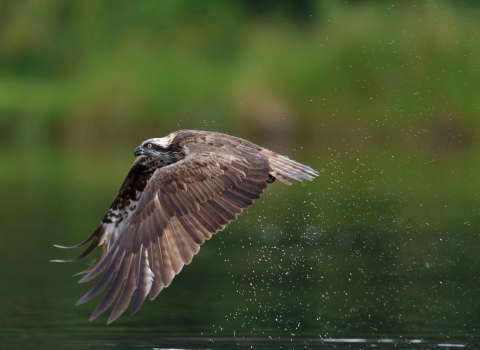 Songs and Videos
We've pulled together our favourite songs and videos about ospreys, some of which have been sent in by schools that we work with, some by individuals, and some clips are taken straight from our webcam. They make a great starting point for teaching or learning resource.
Discover more
Free World Osprey Week educational resources and activities
Schools, educational groups and home school groups can have free access to a huge range of osprey related educational resources, puzzles and games. The resources are divided into Primary and Secondary age groups on the website and cover almost every subject area of the curriculum. These can be used or adapted and cover a wide range of subjects depending on interest or ability. These include pupil activity sheets, teacher's notes, resources sheets, lesson plans and even a one week curriculum plan for Primary Schools. including subject specific and many cross curricular themes. Be inspired in your teaching in World Osprey Week!
Free Primary School Resources
Free Secondary School Resources