World Osprey Week Home School
World Osprey Week takes place during the last week of March each year and celebrates the return of the ospreys as they migrate north back to their summer breeding sites. These spectacular birds of prey are an excellent way of engaging young people with a love of wildlife and inspire them using creative, social, and scientific areas of education. 
This year for the first time we introduced World Osprey Week Home School! Our Osprey Education team created fun at-home activities for each day of the week to learn everything there is to know about Ospreys!
Monday

Watching Ospreys via the Nest Camera

Scientists learn lots about animals by watching them. You can watch our star pair 'Maya' and '33' on the Rutland Ospreys webcam. It is on all the time and you can watch for as long as you wish, but do remember to take a break now and then. 'Maya' and '33' take a break from the nest by going for a fly around, just like you can run around the garden.

If you enjoy your Osprey watching it is something you can do every day if you wish, much better than the TV! If lots of people watch the Ospreys and record their activities someone may spot something important happening which we miss. This is called citizen science. 

Here are some resources to help you:

Primary Schools: Watching Ospreys (Science)
Teacher Notes

Secondary Schools: Watching Ospreys (Science)
Teacher Notes
Tuesday

Drawing or Painting  
You have now spent some time looking at Ospreys so you know what they look like. Today you can get out paper, pencils, crayons or paints and either draw or paint an Osprey picture. It can be any style that you like, colour or black and white, lifelike or cartoon. Just use your imagination. If you put on the webcam you can draw an Osprey from real life. You could also try to show an Osprey activity you have seen on the nest camera, such as bringing in nest material or a fish.

Keep your picture, and later when you return to school you could take it in with you. If lots of people in your class did this then suggest to your teacher that they could judge the best one and send it to us. If we get lots of pictures sent in we will hold a competition.

We've got some Osprey pictures and outlines to get you started:  
Wednesday

Migration
To get to Africa the Ospreys flew around 3000 miles. They are now back or are in the process of flying back, so that is a return journey of around 6000 miles depending on which country they went to! You can look up the migration route of Osprey 30 (she has a satellite tracker) here. Find out the names of the countries she flies over and draw a map to show her route with all of the countries named.

Here are some resources to help you:

Migration - the amazing migration of Osprey 30 (English & other subjects)
Teacher Notes
Student Notes

Migration Statistics - Osprey 30 (Maths & Science)
Teacher Notes
Student Notes

Osprey Migration (Geography)
Teacher Notes
Student Notes

Space Age Ospreys (Science & Technology)
Teacher Notes
Thursday

Osprey Story
What adventures did the Ospreys have while they were in Africa? Yesterday you learned the countries they fly over whilst migrating, what adventures might they have had, what problems to overcome? Today it is a chance for you to use your imagination.

Write a story about an Osprey in Africa, or on its migration back to Rutland. You can choose a real bird like 33,  30 or 5N. Or you can make one up (but remember to give it a ring number).

To help write your story, visit this page to learn more about the Rutland Ospreys.

Here are some resources to help you:

Stick Puppet Stories (Storytelling)
Teacher Notes

Osprey Story (Multi-subject)
Teacher Notes
Supporting Images

Writing Styles (English)
Teacher Notes

Ospreys in the News (English)
Teacher Notes
Student Notes

Osprey Metaphor (English)
Teacher Notes
Friday

Watching Out of the Window
Wherever you live you can see birds (possibly even a passing Osprey!) You just have to look. This can be done out of the window or outside in your back garden. Get a notebook and pencil find somewhere comfortable and safe, sit and look. Be quiet and if you are outside be still as you can. Look up and all around, gradually you will see the birds. 

Try to see sizes, colours, patterns and shapes, and gradually you will see that there are many different species of bird. If you know their names write a list in your notebook, if you do not know what they are write or sketch some notes which can help you to look them up on the internet later. It is hard at first but gradually you will learn their names. Keep an overall list of what you see.

Keeping a list of birds you see around your home is called 'patchwatching' and lots of birders do it.

Here is a challenge …..

How many species of bird can you see on your patch this year. Last year Jackie from the Osprey Education team saw 104 on her patch, which was just in her garden and places she could walk to from the garden! She is determined to beat last year's total in 2020! Is there someone out there who can beat Jackie's total? Send us your list!
Osprey Education At Home Activities
As we had so much fun during World Osprey Week, we have created lots more activities for you to learn about Ospreys and other wildlife from home...
Migration Continued

Migration

The bird world is on the move, migration is a big and exciting event. Here is how you can learn more.

At the moment all the ospreys of breeding age are migrating back to their breeding territories. Several adult ospreys have already arrived at Rutland Water. Ospreys are not the only birds that migrate, last week the chiffchaffs arrived back in the UK, they over winter in West Africa just like the ospreys, but they are very different. Small olive green birds, they are hard to see but at present are in lots of trees and bushes all over the UK. They are easy to hear as they sing their name very loudly Chiff - Chaff over and over again.

Sand martins will be arriving back any day now and at the same time many birds, such as fieldfares, which have spent the winter with us in the UK will be leaving to fly north to breed in Scandinavia or the Artic.

Getting started

Search for a map of the world on the internet and print it out. If you are unable to print, try drawing one and colouring in the main countries. If you do it really big, perhaps on the back of some spare wrapping paper or wall paper, you could make a migration poster.

Completing your migration map

Draw an arrow on your map from Gambia in West Africa to the UK. You could look up the route that ospreys fly on their migration and draw your arrow along the same route. Now write Osprey onto your arrow.

You can show the migration routes of lots of other birds on your map by drawing arrows and writing their names on the arrows. Use the internet to find out where some other migrating birds fly.

If you get stuck try looking up Swallow, Bewick's Swan, Whooper Swan and Fieldfare, use our wildlife explorer for a starting point. Ospreys also migrate in the USA; look them up to find out where do the American birds overwinter, and where they breed.

If you want some more activities on migration, have a go at Wednesday's activity. 
Birdsong

At this time of the year many birds are starting to sing and call. They call to each other to maintain contact (just like you calling someone on the phone) and they sing to say 'this is my territory'. There are also alarm calls which they make when they are scared. Visit the RSPB website for more information about bird songs.

You can hear lots of bird songs and calls on the internet. The British Bird Songs website has all of the British Birds songs. If you have a smart phone or tablet, try downloading the Warblr app which recognises British birds by their song.

Begin by using  the internet to hear the song of some easy and common birds such as:

blackbird
robin
wood pigeon
wren

Once you have an idea what these common birds sound like try listening for them near your home; outside in the garden or nearby park, or if you are indoors open a window and listen. If you keep still the birds will get used to you and be more likely to sing or call. Ignore the man made sounds like cars, just sit and listen to what birds you can hear. Keep practising and soon you will begin to hear a large variety of birds and begin to recognise them.

Enjoy your listening it is a very relaxing thing to do!
Fun bird maths

In week 1 you started looking at the birds in your garden, park or local fields. By now you will be getting good at recognising them and it is time to make your study more scientific.

Getting started…

First make a list of the names of the birds you have seen last week. (Leave space for extras at the bottom)

Dress up warm to go outside, or get a comfortable place by your window looking outside.

Sit and watch for an hour.

For each bird on your list count how many you see at the same time and write the number on the list you have made. Only write down the largest number that you can see at one time. For example if you can see 3 blackbirds at the same time then record 3. If you see another blackbird later you cannot count your total as 4 because it might be one of your original birds come back.

What to do with your results…

Then it is time to write up your results like a proper scientist.

1. First make a table and put in your results. Your table should have two columns, one for the bird names and one for the number seen. Give your columns proper headings, then transfer all of your rough results into the table. Give your table a heading and write the date, place and time of your study.

 (You could do this on a computer if you have one)

2. Now display your results as a chart (A bar graph or pie chart). You may need some help to do this.

Your bar chart should have bird numbers up the side (y axis) and names along the bottom (x axis). Label your axes properly. Give your bar chart a title which includes the time, place and date of your study.

You can repeat this study and record, several times over the next few weeks. You could try changing the time of day when you do your bird count. This is what a proper scientist would do. It will give a real insight into the birds in your study area and you will be able to see if they change over the spring and summer.

Show your study to your teacher when you get back to school, or send it in an email it to us at info@lrwt.org.uk. If we get enough we could have a competition.

Have a go at these other maths activities so you can really improve your maths skills:

Osprey Dice Game
Teacher Notes
Infosheet

Migration Statistics - Osprey 30
Teacher Notes
Student Notes

Patterns & Trends
Teacher Notes
Student Notes
Worksheet

Osprey Fishing Data 
Teacher Notes
Student Notes
Worksheet
Ospreyrobics

After all that studying you will need some exercise! Have a go at these fun osprey related exercises for all ages!

Ospreyrobics 
Teacher Notes
Easter Fun!

We all love Easter and Easter eggs, but in-between eating too much chocolate we thought you might like to do an egg-citing egg challenge!

The ospreys Maya and 33 have now got several eggs and are incubating them. You can watch this live on the webcam.

Your challenge is to produce a big poster all about eggs. You can use lots of small sheets of paper stuck together, a piece of wall paper, wrapping paper or even the inside of a cereal box for your poster.

We want you to put the following things on it. You would do best to read the list first and then plan where each thing will go on your poster. You may need to use the internet to help you. 

1. What does an osprey egg look like, what colours is it and how big is it? You can draw one on the poster.

2. What does an osprey nest look like, what is it made of and how big? Add a drawing to your poster.

3. When did Maya lay her eggs and how many does she have? You can find out by reading our Rutland Osprey blogs. Record the dates each egg was laid on your poster and leave a space, so that later you can record when the eggs hatch.

4. Inside and egg... Draw a diagram to show inside an egg and label all of the parts with their scientific names.

Embryo, chalaza, albumen, yolk sac, egg membrane, amnion, umbilical stalk, shell, shell membrane.

5. What do the words incubation and nidification mean? Write the words and their meanings on your poster.

6. Word search ; on a new piece of paper make a squared grid 12 x 12 squares . Use all of the above to make up a word search. You can add a copy to your poster with a list of the words you used.

We hope that you will be egg-static with your new poster, perhaps it can go onto your bedroom wall.

Remember to put the egg hatching dates on it later.

Egg-stra activties for older or advanced students

Have a go at this science investigation to learn more about egg incubation

It can only be done at home if you have a digital thermometer. The type you need is the sort you point at a child's forehead to take their temperature, but the "film strip" or "under the tongue" glass ones are no good for this experiment. Anyone helping you should take a look at the Teachers Notes before you start.

Modify the experiment by just hard boiling an egg in the normal way and then allowing it to cool, do not peel it. Start the experiment as soon as the egg is at 37 degrees Celsius..

Egg Incubation Investigation 
Teacher Notes
Student Notes
Osprey Easter Egg Hunt

Download all the parts to our osprey Easter egg hunt below to create your own, you will learn more about ospreys with each clue. 
Birdsong Quiz

In an earlier activity we asked you to identify some bird's songs and calls. This week you can do a  Bird Song  quiz to test yourself!

Here is a list of ten common British birds – write down or print this list.

BLUE TIT
GOLDFINCH
ROOK
BLACKBIRD
WOOD PIGEON
ROBIN
DUNNOCK (HEDGE SPARROW)
GREAT TIT
WREN
CHIFF CHAFF

The Quiz – what to do

We have recorded the  song of each bird, but  we have mixed up the order in which you hear them!

Each song has been given a letter A to J.

Watch the video below and listen to each bird song. You can pause or repeat playing all the songs.

Next to each bird on the list, write the correct letter of its song!

Answers to follow next week...
Bird Song Quiz Answers

Bird Song Quiz.

We hope you had a go at our quiz to match the letter of song to the bird.

Find your answers and then see how you did.

A          BLACKBIRD     

B          WREN      

C         GREAT TIT 

D         GOLDFINCH  

E          CHIFF CHAFF   

F          ROOK 

G         BLUE TIT   

H         WOOD PIGEON  

I           DUNNOCK (HEDGE SPARROW) 

J          ROBIN  

Scores

There are some tricky songs which sound similar. How many did you get right?

10          Excellent ! -you know your bird songs!

8 or 9     Well done!  Tricky ones caught you out!

6 or 7     Good effort - try  the quiz again and see if you can improve

5 or less Play the song quiz again with the answers first a couple of times then have another go without the answers.
Osprey Adaptations

Designed to be an Osprey

All animals and plants are have special features which help them to survive. These features are called adaptations. Adaptation is a very important part of science, and it does not matter how old you are or at what stage of school, you will meet this at all levels in your school curriculum or exam work. There can be no better way of understanding adaptation than by studying an amazing bird like the osprey!

Ospreys are birds that are brilliantly adapted to catch and eat fish.

Ospreys have to be able to see a fish in the water, and then dive down, get hold of the fish and then take the fish from the water. Watch the video below of an osprey catching a fish.

The following parts of an osprey are all adapted in at least one way to help it to catch a fish! Some of these parts may have several adaptations.

Eyes and eyesight.
Feathers.
Colour.
Feet and legs
Nostrils

Use the internet to find out about these osprey adaptations. There are lots of websites and pictures to help you. If you want an easier way to start try this worksheet from the World Osprey Week teaching resources;

Designed to be an Osprey (Science)
Worksheet

What to do next

Once you have found out about osprey adaptations you can choose a way to present your findings.

Here are some suggestions …

1. Do a drawing or painting.  You can draw a picture of an osprey and label all of its adaptations.

2. If you like science or want to become a scientist. You can write a scientific report on the adaptations of an osprey. This report could also include labelled diagrams.

3. Write a story. You can write a story of an osprey and include as many adaptations into the story as you can. You could illustrate your story with pictures or drawings

4. If you like speaking. You can prepare a lecture or lesson on "osprey adaptations" and then deliver this to one of your family members or a friend either in your house or by using the internet, skype, zoom or facetime.

After doing all of this hard work, you might like to play an osprey game. Here is a link to an osprey fishing game for two players.

Survival of the Fittest Game
Teacher Notes
Worksheet

(Teachers notes explains how to play and worksheet - print one for each player)

While you are playing the game think about the best ways for the fish to be adapted to avoid being eaten by the osprey. Lots of fish have ways to avoid predators like ospreys. How does this work in the game?
Dawn Chorus

The natural world wakes up as soon as it starts to get light. At this time of the year as the sun begins to rise and most of us are still asleep, most birds become active and start to sing to attract a mate or to defend their territory. As dawn approaches there is a massive cacophony of song which would rival any orchestra. This is the "dawn chorus".

To give you an idea, watch the video below that was recorded on 21st April at 5.15am in the East of England.

The dawn chorus is at its peak at the end of April and beginning of May. The first Sunday in May is official Dawn chorus day, and is usually celebrated by events all over the world. This year it is more challenging.

So, why not have your own dawn chorus event, and join in with a special wild life experience that is quite unlike anything you have heard before. It is fun, easy to organise, costs nothing, and you will remember it forever! The only problem is you have to get up early…..very early!

Preparation

1. Plan where you are going to go. If you cannot go outside, you can be by an open window, you will still hear a lot. If you can go outside, you must be with an adult, you can be in a garden, or take a short walk to a park, fields or woods.

2. Find out when dawn (sunrise) is on your planned day. The weather app on your phone should tell you this. While looking at the weather app, check the weather forecast for your planned day. A dry and still day is best for birds and most comfortable for you.

3. The birds will be singing from an hour before dawn so you need to be in position by sunrise. Set your alarm!

4. Download a sound recording app onto your phone and make sure that you can use it. Charge your phone fully.

5. Plan a special breakfast for when you get back, and set out the kitchen the night before.

6. Set out your clothes the night before. You need something very warm and will also need your winter coat. It can be very cold at this early hour!

7. Make a poster to advertise your event, remember to include the start time, venue and details of breakfast. Put your poster up where the whole family can see it so everyone knows what is going on. Who else in the family will join in? You must be with an adult and remember social distancing means not a group. You will hear more if there is only two of you anyway.

Dawn Chorus Day

1. Get up when the alarm goes without moaning!

2. Make sure everyone going is ready and get into your chosen position together. Do not chat just listen to the most amazing sound-scape. Enjoy being part of it.

3. You can record short bits of the chorus on your phone. Make each recording a minute or less.

4. As the sun rises the singing will subside and it will be time to go home and then start on that breakfast you planned. You have earned it.

5. Listen to your recordings and try to work out which birds are singing. There are websites for  bird songs and bird song phone apps.

6. You could choose your best recording and send it to a friend or family who live somewhere else. Perhaps they could also record their dawn chorus and send it to you.

7. Keep your best recordings to remind you of your dawn chorus adventure.
Osprey Nest Watch

Hatching time is approaching. Maya and 33, the two ospreys you can see on the webcam have been working hard to incubate their eggs and this week we should see the results.

If you did the eggciting activity over Easter, then you will already have a poster all about eggs and will know what has been going on inside the egg during incubation. Now is the chance to complete that poster with hatching dates.

This week watch the nest webcam as often as you can. Maya and 33 will know when an egg is going to hatch and you will see their behaviour change. If you notice they are more restless than normal then that is a time to really watch. You might even be lucky enough to see an egg hatching.

The eggs were laid at intervals over a few days, so do not expect all of the eggs to hatch at once. Do not worry if you miss when an egg hatches, information will be put on the blog about it.

Enjoy nest watching!
Moth Watch

Moths are insects. They have two pairs of wings, six legs and two antennae. (Do you know any more features of insects?)

Most moths are active at night and usually hide and rest by day. They are important because most moths feed on nectar from flowers and this helps to pollinate the flowers. All moths are important as food for many birds which find and eat the resting adults or the moth caterpillars by day. Some nocturnal animals such as bats catch and eat moths at night.

There are around 900 species of British larger moths, but as moths are active at night this makes learning more about them difficult as they are hard to see in the dark! However, as you may know, moths are attracted to light and often gather around street lamps and security lights. The bats which feed on moths at night also know this!

The best months for moths is between May and September, and they are most active on cloudy, still, warm nights when it is dry. This is also good for moth watchers if you stay up late to see them.

Many moths are easy to recognise by their size, shape, colours and markings. However, some are very difficult because they have ranges of shades or colours, or may look very similar to other species.

If you attach them to a light you get the chance to see moths at night. A video tells you how to do this. It is important not to touch moths as they are very delicate.

Moth traps (shown in the video) can be used to catch moths during the night. After looking at the moths in the morning, they are carefully released into bushes or tall plants where they can hide until it is dark again.

Take a look at my short video below to find out more about moths and see some of the most colourful ones..

Moths and how to recognise them
How to attract and watch moths in the garden using a light.
Where and how to find the names of moths
Picture gallery - some of the more spectacular moths you may see!

Further useful information:

Butterfly Conservation - identifying moths
Colouring Fun

Colour in a picture of the osprey nest

Colour in a picture of an Osprey family
Name that bird!

Most of us use English or "common names" for birds. Familiar bird names include the Blackbird, Robin, House Sparrow and Starling.

These days' birds have the same names wherever you happen to see them in the UK. But it was not always like that. In the days before people had bird guides, bird lists and the internet, a bird's name depended on where you were in the country and who you were talking to about it. Some parts of the UK still use some of these old names                                 

The Goldcrest was once called 'Woodcock Pilot'. It was thought they sat on the back of Woodcocks to cross the North Sea on migration, as such a small bird could make the journey by itself. 

Now try this quiz on old British bird names

Here are the answers to the Old British Bird Names Quiz

Groups of birds

We also have names for groups or flocks of birds. Maybe you have heard people describe seeing thousands of Starlings flying around in a close-packed flock in winter. The correct name for this is 'A Murmuration of Starlings'. 

There are special collective names for many other species of birds, based sometimes on the sound they make (like the murmuring starlings), their colours, or their behaviour. A lovely one is a "Shimmer of Humming Birds. This name refers to the almost metallic shimmer of the feathers of most Humming Birds as they fly and hover in the sun!

A group of gannets is a  "Plunging of Gannets"  after the way they dive into the sea to catch fish!                                                                                              

(C) Pete Murray

Now try this quiz on collective bird names

Here are the answers to the Collective Bird Words Quiz

A bigger problem - birds names around the world

Around the world, birds are given common names in each country in their own language, so a Starling in England is called a Stornello in Italy!

Even countries which speak English may use the same name for two very different birds.What we know as a   Robin in England is not the same bird as a Robin in the USA. This is all very confusing!

So the answer is that all birds are given a scientific name. This is truly international and also very useful if birds migrate from one country to another. The Osprey in England is known as Balbuzard in France, Fischadler in Germany, and Águila pescadora in Spain! If we use a scientific name everyone around the world knows the Osprey as Pandion haliaetus.

(C) Pete Murray

Read this to find out more about scientific bird names
Fishy numbers

This week we would like you to watch the live nest camera to see which fish the ospreys eat and when. The camera gives a good close-up view, and you can see when Maya (no ring) or 33(Blue ring) bring a fish back to the nest. You may be able to work out what sort of fish it is!

If you want to be more "scientific" you can watch for a set amount of time and make a list of what happens on the nest and when including the times when fish arrive! Use the document below to find out more. 
Food and Feeding

This week we are going look at food, with some home activities and things for you to do. The first task is to find out about what food contains, and why we eat food. Follow this link to find out more about food and for some fun activities!

 

All living things need to feed. This activity sheet  begins with a look at plant and animal foods. You can then go on to see how animals and plants become part of a food chain. There is a link to some more challenging science at the end.
Ken's Quiz - 10 Birds

Ken's quiz has clues and an anagram for each bird.  Can you use the clues and then work out the names of the ten birds?

Who am I? 10 birds clues and anagrams quiz

Who am I? 10 birds clues and anagrams quiz - Answers
The Bug Hotel

Make Bugs a home!

Small animals are important outside our homes or in our gardens. These 'mini-beasts' or invertebrates need places to live and like piles of wood, gaps in stones and small cracks to make their homes.

Unfortunately, our modern houses and small tidy gardens have very few places for these animals to hide, shelter or bring up their young.

The "Bug hotel" is a man-made place for small creatures. There are lots of good ideas on the internet but often they are big or hard to make. You need old building materials, wood, or twigs. Some need lots of room or special tools! However even some bundles of twigs, a stack of old wood, stones or bricks can make a great home for insects, spiders, centipedes and snails.

Making a Bug Hotel

We have a short video to show how young naturalists can make a small scale "Bug Hotel".

A little help will be needed for cutting and holding!

You will need:

A Glossy magazine
Plastic plant pot or plastic milk carton
1m strong string
Piece of card (shoe box  cereal box or similar)
Pair of scissors, pencil, and a ruler
Sellotape

Ideas for Bug Hotels

If you would like to make a bigger scale bug hotel or make a place more bug friendly, we have some ideas in a short presentation. Follow the link below to find out more.

More about Bugs

Bugs are amazing! Respect them, find them and watch them, draw or take pictures of them!

Find out more about these mini-beasts and go exploring your garden, park or green space. You can then identify them, make a "Bug Profile" of your favourite bug (good for a wet day!), find out more about the bug groups and even go bug spotting (great on a fine day!) Use our activity sheet below to help you.
Ringing the Osprey Chicks

Latest News!

The four chicks at Manton Bay were ringed on Tuesday 16th June. Ringing birds helps us to learn amazing things about their lives, for example their movements and how old they live to.

You can learn more about the importance of bird ringing, how it is done and do some ringing activities by following the link below.

The image below is the four Manton Bay chicks, who are all males, taken after they were ringed.
Small Mammals - Footprint Traps

Small Mammals - Foot Print Traps

We share our gardens and green spaces with many wild animals including some small mammals. Most of these animals are active at night, are very "shy" and are difficult to see in the dark. They also can move quite quickly!

(C) P Murray

(C) Paul Adams

(C) Wildstock

Footprint traps are really useful to find out which small mammals are in a garden or green space.

The animals are not harmed by a footprint trap but leave tell-tale footprints when they visit to eat some food that you provide. There are lots of footprint traps, and you can find out other types on the internet.

Making a Footprint Trap

This trap is a designed for hedgehogs or smaller mammals, but this design discourages cats or squirrels from entering.

(C) P Murray

To make the trap you will need:

120 x 75 cm cardboard (strong cardboard box or packaging)
50 cm of  5cm wide duct tape (any colour) or 5cm wide masking tape
3 Large bulldog clips or  clothes pegs
Footprint paste – made from charcoal powder and cooking oil (Plastic pot and spoon to mix )
Small paintbrush to apply the paste
2 A4 sheets white paper
Large paper clips
Food - you can use any dry or wet cat or dog food (not fish based types), grains, seeds, or  special hedgehog food. Small dish is needed for the food. Note: If you have a dog or cat avoid using this sort of food in your footprint trap!
Tools- large scissors, pencil, tape measure and straight piece of wood.

The film shows you how to make and then set up the trap. It is best set up in the evening near a hedge, fence, or wall. You may need to set up the trap several evenings, so that small mammals get used to it and find the food.

The foot print trap is left out all night and the tracks inside can examined in the morning when you open the trap. Mice, voles and hedgehogs are the most common visitors to leave tracks. It depends on the food you put inside. Perhaps you could investigate which animals visit for each type of food?

Hedgehog Footprints

(C) P Murray

Bank Vole Footprint

(C) P Murray

Less welcome visitors may leave tracks, such as squirrels and cats, so check you know what these prints look like! Search the internet for 'small mammal footprints' or 'footprint trap tracks'.
Are you enjoying the Osprey Education at Home resources?
As school closure continues, each week we are adding more wildlife activities for youngsters to do at home.
Below is a link to a survey in relation to the Osprey Educational Resources. We would really appreciate as much feedback as possible, so if you have two minutes to spare, please do fill it in.
Even if you haven't used the resources, we would very much like to hear your feedback.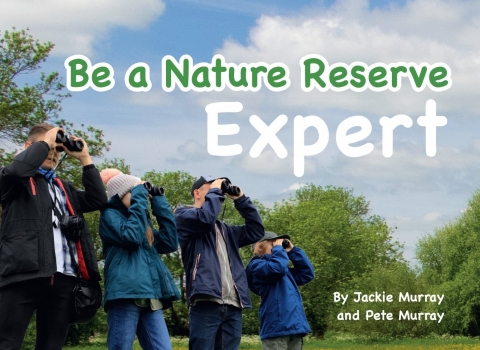 Be a Nature Reserve Expert
Become a nature expert with our new nature-themed activity book for children. 
With 24 pages of nature-based activities, the compact A5 size is easy for children to handle. Each spread has a theme, with information, simple practical activities, and spaces to record what they see.
You don't need a nature reserve! All the activities can be done almost anywhere: a garden, a park, a school field, or any wild space will have what is needed for the activities to be completed by children of all ages.
£5.00 including postage and packaging.
Free World Osprey Week educational resources and activities
Schools, educational groups and home school groups can have free access to a huge range of osprey related educational resources, puzzles and games. The resources are divided into Primary and Secondary age groups on the website and cover almost every subject area of the curriculum. These can be used or adapted and cover a wide range of subjects depending on interest or ability. These include pupil activity sheets, teacher's notes, resources sheets, lesson plans and even a one week curriculum plan for Primary Schools. including subject specific and many cross curricular themes. Be inspired in your teaching in World Osprey Week!
Free Primary School Resources
Free Secondary School Resources