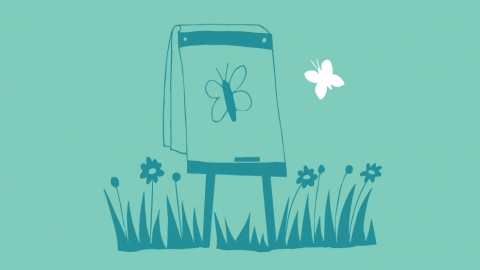 How to help wildlife at work
Attracting wildlife to your work will help improve their environment – and yours!
The Wildlife Trusts' 30 Days Wild Campaign has, together with the University of Derby, proved that nature is good for your soul.
So, where best to instil some tranquility than in places of work up and down the UK? From hanging bird feeders to wilding a small garden, there are options to help local wildlife whatever the size of the area you have available. A wildlife garden at work presents countless opportunities to relieve stress and improve moods, to focus attention and improve moods, to focus attention and increase productivity and to bring people together, while encouraging a connection to nature. 
Create a peaceful area for colleagues and wildlife … maybe work could help with the costs?
Ideas for a work wildlife area:
Recycling at work
Making sure your office is recycling properly will help wildlife immensely and reduce your workplace's impact on the environment:
Be sure there are enough clearly-labelled recycling bins around the workplace and in busy places like the kitchen or by printers
Use pictures to show what should go in each bin – that way, people won't put things like non-recyclable plastic wrappers in the recycling!
Appoint a green team from different departments to discuss how your recycling scheme can work across the workplace
Give your scheme a proper launch! Let everyone in the office know that a new recycling system is in place. 
Recycling helps wildlife by:
Reducing the amount of plastic in the environment – as litter or in landfills, and in our rivers and oceans
Cutting down on the amount of new plastic we produce – plastic is made in a way which produces a lot of carbon dioxide and chemicals which can harm wildlife
Saving trees – reducing carbon dioxide in the air and even saving some woodland where wildlife thrives
Saving water – recycled paper uses 80% less water to make than new paper, keeping wetlands topped up and rivers healthy!
Making our world cleaner – paper factories create air and water pollution, so recycling helps clean up the world for wildlife
Have a wild fundraiser for your local Wildlife Trust
Help the people caring for wildlife near you by fundraising for your local Wildlife Trust. From having a day of wild fancy dress to running a wild bake sale, there are so many ways to get involved in protecting wildlife. Get creative and go wild!
Some ideas to get you started:
Bake for wildlife – get together with some colleagues and bake some wild goodies like butterfly cupcakes or a hedgehog cake, or maybe even a traybake decorated with a 'wildlife scene'!
'Wild onesies' – pay a pound to have a wild day wearing onesies at school! Or go in wild fancy dress to work.
Food tasting fundraiser – have a local gin distillery? Or a cheese specialist? Or maybe a wine shop? Organize a tasting session! Sell tickets, donate a cut to a local conservation charity and help a local business grow.
Up and down the country, local Wildlife Trusts are helping people and organisations to get nature in to the workplace and into people's daily lives. Get in touch with your local Wildlife Trust for advice or more information about how we can help you get a little more nature in your life.
Find your local Wildlife Trust
If you'd like to continue to help nature away from your workplace, you can also be involved in corporate volunteering – helping local wildlife away from the office, but as part of a team. Contact your local Wildlife Trust to get involved.
Alternatively, find out more about other ways in which your business can help the work of the Wildlife Trusts and the local environment.