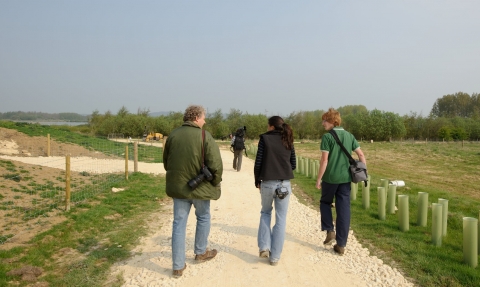 Information for groups
Groups at Rutland Water
Rutland Water Nature Reserve is well equipped for looking after your group - big or small - through our Volunteer Training Centre. Whether you're looking for a guided walk, an introductory talk, room hire, corporate volunteering or more, we can cater for your needs. See below for our packages, and give us a call to discuss your own bespoke arrangements. 
Talks

We offer a range of informative talks to local groups, businesses and organisations about Rutland Water Nature Reserve, our conservation projects, and the wildlife that lives here. Presentations are given by experienced members of the Rutland Water Nature Reserve Team and range from a short 15-20 minute introductory talk (great to add to the beginning of a guided walk) to a more in depth presentation of an hour or more. Talks can take place at Rutland Water Nature Reserve, at one of our visitor centres or the Volunteer Training Centre, depending on the size of the group. Or, alternatively we can visit your venue.

A few of the variety of talks on offer include:

An Introduction To Rutland Water Nature Reserve
The Rutland Water Ospreys
Rutland Water Nature Reserve's Water Vole Reintroduction Project
Bird Ringing and Monitoring
Artificial Sand Martin Banks
Wildlife Gardening

Talk Prices:
Up to 80 people: £70.00 + travel expenses*
80 people or more: £125.00 + travel expenses*

*45p per mile. If the speaker is required to travel for more than 3 hours in total, a surcharge of £50.00 is required to cover travel and accommodation

 
Guided Walks

Groups wishing to receive a relaxed introduction to some of our very special wildlife can explore with the help of an experienced member of the Rutland Water Nature Reserve team. Your guide will take you on a journey of nature discovery to see an amazing array of water birds and a host of other wildlife. If you're lucky you might catch a glimpse of the enigmatic water vole or see the flash of a kingfisher. The wildlife you see will depend on the weather and time of year, but we can guarantee a lovely walk in a beautiful location.

Price:
£120.00 for a group of up to 15 people for 2 hours 
£40.00 for each additional hour thereafter

Please note, access to the nature reserve is by permit only. The prices above are inclusive of a day permit which allows entry to both the Egleton and Lyndon areas of the reserve from dawn until dusk, and covers car parking at both visitor centres.
Room Hire

Our Volunteer Training Centre is an idyllic place to meet with colleagues, inspire your team or gather members of your community group. Just 2 miles from Oakham's train and bus stations, the Volunteer Training Centre is within easy reach of public transport and is just a short drive from the A1, A47 and A606. Our car park has space for up to 40 cars (4 spaces are reserved for blue badge holders).

We have two meeting spaces available to hire:

Training Room

The main training room is located on the ground floor and is our largest meeting space, seating up to 40 people (theatre style). This multifunctional space could accommodate workshops, larger meetings or seminars, training sessions or talks. Audio visual equipment, laptop and laser pointer, lectern and flip charts are all available on request. The ground floor is fully accessible, complete with accessible toilet and wet room.

Upstairs Meeting Space

Our upstairs meeting space can accommodate up to 20 people boardroom style and boasts a stunning view overlooking the reserve's lagoon 4. Complete with a three seater-sofa, two armchairs and coffee table this room is ideal for smaller groups wishing to meet in a more informal setting or make the most of the extra special view to inspire your team. Audio visual equipment, laptop and laser pointer, lectern and flip charts are all available on request. Please note that the upstairs meeting room is accessed via a flight of stairs. At the moment we are unable to offer a stair lift facility but hope to in the future.

Half day (9am-12:30pm/12:30pm-4pm) £150.00
Full day (9am-4pm) £250.00
Evening (4pm-9pm) £175.00*

Free Wi-Fi is available throughout the building.

*25% discount for charities

Tea, coffee and biscuits provided at additional cost of £2.25 per person.
We are unable to offer a catering facility but are happy to provide details of local companies who can help.

Access to the nature reserve is by permit only, if you would like to walk out on the reserve you will need to purchase a permit at an additional cost (click here for details).

Our friendly staff and volunteers will be sure to make you feel at home and are on hand to make sure you enjoy your time here.
Accommodation

If you are visiting Rutland Water Nature Reserve for one of our two-day courses and need somewhere to stay, the Volunteer Training Centre (VTC) can provide a simple yet comfortable night's sleep on a budget, in a beautiful setting. The VTC sleeps up to eight people in our two bunk rooms. You may have to share your room with up to three other people (this will be single sex whenever possible); there are four single bunk beds per room. The rooms have been designed to provide basic overnight accommodation for Rutland Water Nature Reserve; you must provide your own duvet and pillow, bed linen, towels, toiletries, food and drink. A fridge, freezer, basic kitchen utensils, cutlery and crockery are provided as well as tea, coffee and milk. The ground floor of the building is fully accessible, complete with accessible toilet and wet room. There are two separate shower rooms for guests.

There is a charge of £15.00 per person, per night payable at the time of booking.

You can check in any time after 3pm on the day of your course. Check out time is 10am. You will be met on arrival by a member of the VTC team who will allocate you your bunk, locker and keys. You are welcome to leave the site in the evening, but please be aware that the gates to the car park, and the building itself will be locked by 11pm.
Booking a walk, talk or room
For more information and to book a guided walk, a talk or hire one of our rooms at the Volunteer Training Centre, contact our Volunteer Training Centre and Events Coordinator via email volunteering@lrwt.org.uk or call 01572 720049.
Volunteer Training Centre
Since 2015, Rutland Water has been able to offer a little something extra to our volunteers, groups and partners, thanks to our new Volunteer Training Centre. Thanks to the generosity of the Heritage Lottery Fund, Anglian Water and many other amazing donors, we are able to support and train volunteers in conservation, countryside and heritage skills. The new £1.1m Volunteer Training Centre serves as the hub of an active, supportive community in which volunteers of all ages and backgrounds can reach their full natural potential for both wildlife and people. We deliver a variety of learning and volunteering activities, all designed to make a real difference to our natural heritage and promote skill sharing between people from all walks of life. 
Visits are by prior arrangement with your group
Anglian Water Birdwatching Centre
The Anglian Water Birdwatching Centre also offers a range of activities and room hire for all ages, including birthday parties, corporate hire and educational visits. These are not organised through Leicestershire and Rutland Wildlife Trust, so please visit the Anglian Water website and contact them directly to discuss your needs.