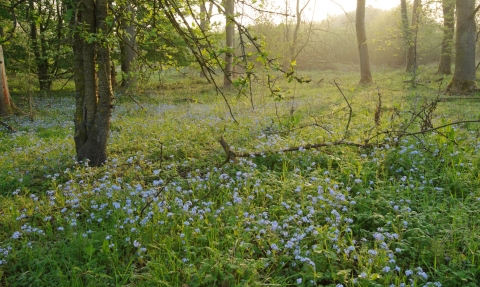 Grow Wild
Grow Wild
Grow Wild aims to support your school or community group to make the most of its outdoor spaces for you and for wildlife. This could be a playground, a field, a bit of wasted space in a car park, a brownfield site or an area that's a bit neglected - we love a challenge! We can transform any site to make it a special place for people and one that is teeming with wildlife - great for nature, and great for your health and happiness.
Check out some of the areas that we've transformed...
Our team of experienced gardeners can work with you to:
Design a wildlife, sensory or mindfullness garden, a Forest School area, a barefoot or minibeast trail or a wildlife-friendly vegetable plot
Create a garden from scratch - there's something possible for everyone from window boxes to wildflower meadows and ponds
Renovate existing gardens that have fallen by the wayside
Maintain and improve your outdoor spaces
Train your staff, volunteers and students in nature-friendly gardening techniques
We can work with you on all stages of a project, or you can brief us and we'll do the rest.
What does it cost?
We try to keep costs as reasonable as possible, providing something to fit with every budget.
Typical costs are:
Initial site visit - for our benefit to help us assess the job we're being asked to do. This will involve dialogue with staff (or parents or governors), but the emphasis is on information flowing to us: FREE
Advice visit – we will walk around your site with you, providing verbal advice on how to improve your space: £84 plus travel.
Advice visit plus a brief written report: £168 plus travel.
Advice visit plus a full written report: £84 plus travel for the visit. We'll give you a quote for the report once we've assessed your needs.
Design and gardening work: approximately £168 per gardener per day.
Using your garden to learn
Our Education Team can help you use your space to learn - from minibeast hunting and pond dipping to investigating plants and trees, or understanding the impact of climate change on wildlife. We offer a wide range of exciting curriculum-linked workshops that can be run in your school grounds. If you're starting from scratch we can support you to involve the students in every step of the process from learning about wildlife gardening to designing their own plot.
Next steps
Contact Martha on 0116 248 7356 or growwild@lrwt.org.uk to discuss your needs. 
We can't wait to hear from you!